Weakness is not really a word that I think most people would like to describe themselves as. Myself included. That is why this verse always grabbed my attention. When we are at our weakest is when God is able to work through us the most. The Lord is not only sufficient for our weakness, but He works through our weakness.
This is a concept hard for me to grasp because I always look at my strengths and how God can use those for His glory. I like encouraging others. I love working with kids. I limit myself to using my talents and gifts to serve the Lord. Not that those things are bad, but God is so much bigger than our talents and gifts. He is big enough to use our weaknesses to further His kingdom.
Rachel
had a great post on
Being Brave
for God yesterday that really opened my eyes to my insufficient trust in God's sufficient Grace. It is not about what we think we can do, but what God calls us to do even if it is out of our comfort zone.
I'm slowly learning to take the limits off of our limitless God. I catch myself saying yes to Him as long as it fits within my limits. I'll say yes as long as what He asks is in my comfort zone. It is when He starts pushing me towards things that will expose my weaknesses that I shut down. I quietly ignore those tugs and focus on things I know I can do. Obviously, that is not what God wants of me. He wants me to push the boundaries and let Him work in my weakness.
What does this look like? It looks like tearing down walls I have built. It looks like taking the limits off God and saying yes to whatever or wherever He calls me. It looks like me letting go of things on my list of somebody else can do that and putting it on my list of ways to serve Him. What it boils down to it is me letting go of my comfort zone and my plan and accepting that my life is His. I am His hands and feet in whatever ways that might be.
This isn't easy. I like my comfort zone. But nobody said it was supposed to be easy. In fact in Colossians 1:28-29 Paul says, "He is the one we proclaim, admonishing and teaching everyone with all wisdom, so that we may present everyone fully mature in Christ. To this end I strenuously contend with all the energy Christ so powerfully works in me."
I don't know about you but "strenuously" and "with all the energy" don't seem like things that are easy to me. But the great news is that our God is sufficient in our weakness. He is sufficient when we are tired and worn out. He doesn't promise an easy walk, but He does promise to be all we need. How comforting is that?
So friends, what does letting God work through your weakness look like for you? Is it letting go of your own plans to accept his? Or maybe it is speaking out about your faith to others that you know need to hear it?
Whatever it looks like for you, I pray that we can strive to let the Lord work in our weakness rather than staying in the comfort zone that we have made for ourselves.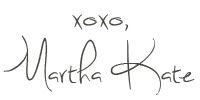 Now it is your time to link up a post you have written, old or new, that encourages other in their Faith!
Link up Rules:
1. Follow your Hosts,
Martha Kate
and
Jenni
2. Leave Some Encouragement on Another Link
3. Grab the Button and Link Back Here