Welcome to Wednesday's Words, a movement to encourage each other by sharing the word of God weekly, hosted Martha Kate from
Seasons with the Strattons
and Jenni from
Frankly My Dear
.
Let us not give up meeting together, as some are in the habit of doing, but let us encourage one another--and all the more as you see the Day approaching.
Hebrews 10:25
Our hope is that Wednesday's Words will become a community of bloggers who encourage each other! We want to make an effort to share Bible verses each Wednesday. Wednesday's Words will only be a linkup the last Wednesday of each month, and there will be a topic for those linkups! All the other Wednesdays of the month, we encourage you to share a Bible verse, add our button to your post, and use #wednesdayswords so we can read your posts too!
Schedule
February 25: Surrendering our Fears
Share with us what fears you need to surrender to the Lord. For me, it is my fear of my husband's baseball career ending and my fear of infertility, along with others. We can't wait to read your posts!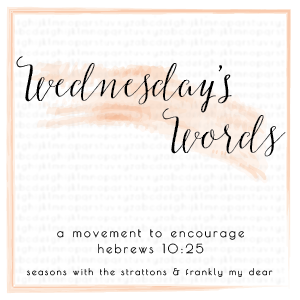 There is also a co-host for each week's linkup. If you are interested in co-hosting, be sure to email mk.stratton11@gmail to find out more!